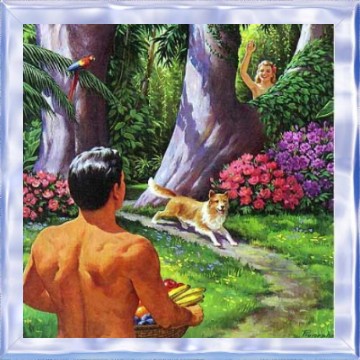 Eat The Fruit Care
For The Vine

In the days of long ago,
When God spoke and it was so.
And the earth brought forth
It's glory all around.
In that Eden garden fair,
God did place a lovely pair.
And He said.
"Dominion now to you is given."
Chorus
Eat the fruit care for the vine,
Let my love round all entwine,
Bring forth children
,Fill the earth with joy and peace,
This home here to you is given,
As a sweet foretaste of heaven,
If faithful here
With me you'll always be.
Ch.
O' the days went by replete,
Full of joy and comfort sweet,
As that happy couple
Wandered far and wide,
Keep together God had said,
For you have a foe to dread,
Adam keep your wife
Close by your side.
Ch.

Oh this story would be sweet,
But poor Adam fell asleep,
And Eve walked through the Garden Oh so free,

And 'twas on that fatal day,
She did here the serpent say,
You shall not die,
Just taste and you will see.

Ch.

Eve fell for the devil's ploy,
Thinking she would have new joy,
And she said to Adam,
"Taste it is so sweet."
But how great was their dismay,
Not a word could ever say.
And a warning here
We surely must repeat.
Ch.

Oh my friend you all must know,
When God Speaks it will be so,
He changes not,
Nor does He ever sleep.
Won't you now obey His call,
For He is the All in All.
Listen now His message I
repeat.