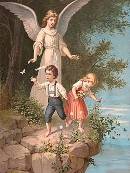 It Must Have Been
An Angel

The snow was falling swiftly
But I would soon be home
The road was kind of slippery
If I had only known
I sped on through the darkness
When suddenly the lights
Were pointing to the river
The road no more in sight.
Chorus
O' it must have been an angel
Who was standing by my side
It must have been an angel
Or I would have died
I know it was an angel
Who was walking by my side
He's with me as I travel
Till I reach the other side.
This story is repeated
Around the world each day
A host of mighty angels
Our Father's will obey
To save His precious children
Scattered far and wide
He's promised to deliver
By the angel at our side.
Ch.

Friend of mine take courage
You never walk alone
If Jesus is your Saviour
He'll always see you home
Ten thousand times ten thousand
Are hastening to and fro
an angel's always with you
No matter where you go.
Ch.